Diego Castro Magas was born in Santiago de Chile, in 1978.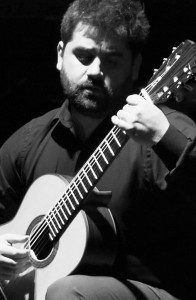 He started music lessons (guitar performance and music theory) under the guidance of Chilean composer Fernando Carrasco in 1992. Later, he studied guitar performance at Catholic University of Chile with maestro Oscar Ohlsen (from 1993, obtaining the Diploma in Guitar performance with summa cum laude in 2000) and in University Ramon Llull with Ricardo Gallén and Fernando Rodríguez (MA in Guitar performance 2005).
He has also attended masterclasses from other guitarists such as Eduardo Fernández, Pablo Márquez and Magnus Andersson as well as from lutenist Hopkinson Smith. Also, he studied contemporary electric-guitar under Daryl Buckley.
Between 1998 and 2005, Diego was prize-winner in several classical guitar competitions such as 'Liliana Perez Corey Guitar Contest' in Chile, 'Maestro Abel Carlevaro Guitar Competition' in Uruguay, 'Manuel Ponce Gutar Competition' in Mexico, 'Stotsenberg Classical Gutar Competition' in USA and 'Miquel Llobet Guitar Competition' in Spain.
Since 2006, he has been focused mainly in contemporary music repertoire, introducing to Chilean audiences both solo and chamber music major guitar works by F. Donatoni, L. Francesconi, A. Clementi, G. Manca, H. Lachenmann, B. Ferneyhough, C. Dench and M. Finnissy among others. Recently, he has also collaborated with Brian Ferneyhough, James Dillon, Michael Finnissy, Aaron Cassidy, Bryn Harrison, Eric Egan and Clemens Gadenstätter in performances of their solo guitar pieces, respectively.
He has performed in main contemporary and chamber music festivals in Chile, as well as in Festival Atempo in Venezuela, 24th Contemporary Music Festival in Cuba, Festival Ars Nova in Ravensburg, Huddersfield Contemporary Music Festival, Klang Festival in Durham, Tacit or Loud Festival for Artistic Research in Malmö and The Dark Precursor: Conference on Deleuze and Artistic Research in Ghent among many others.
In recent years, Diego has given research seminars, lectures and workshops on contemporary performance at Nunc Conference in Northwestern University, Lund University, Orpheus Institute in Ghent, Leeds University, Brunel University London, Durham University and University of York. Also, he has published articles on CeReNeM Journal, TEMPO (Cambridge University press) and Divergence Press (University of Huddersfield).
His first solo CD was released in 2009, featuring the first published recording of Ferneyhough's guitar duo "No Time (at all)" along side brilliant Chilean guitarist José Antonio Escobar. In 2015, Diego released the CD 'Shrouded Mirrors' for Huddersfield Contemporary Records, distributed by NMC Recordings. The CD includes the recording premieres of solo guitar pieces by Michael Finnissy, Bryn Harrison, Matthew Sergeant and Wieland Hoban alongside pieces by Brian Ferneyhough and James Dillon.
Diego obtained his PhD in Contemporary Performance at University of Huddersfield under the supervision of Philip Thomas in 2016, in recognition of his thesis 'Body, Mimesis and Image: a Gesture-based Approach to Interpretation in Contemporary Guitar Performing Practice'.
Currently, Diego is lecturer in Guitar Performance and Chamber Music at Catholic University of Chile.